Lenticular Printing Postcards
Postcards that have undergone a unique lenticular printing technique are referred to as lenticular postcards. The process of lenticular printing makes use of these tiny, ribbed plastic lenses that are organized in a pattern on a flat surface. These lenses give the impression of depth or motion when viewed from various angles, giving the postcard a distinctive and captivating appearance.
Lenticular postcards may provide a variety of effects, such as 3D graphics, flip animations, and morphing. This kind of postcard can be a fantastic method to stand out and leave an impression on the receivers.
Lenticular postcards can be made in a range of sizes and forms and printed on a variety of materials, including plastic, paper, and metal. Due to the complexity and unique equipment needed for the lenticular printing process, they are typically more expensive to create than conventional postcards. For organizations or people trying to stand out in a competitive market, they may, nonetheless, be a valuable investment. Postcards made with lenticular technology can be used for a number of things, such as advertising, promotions, and private correspondence.
How to best utilize your lenticular postcards cards
Lenticular postcards can be used for a variety of purposes, including::
Advertising: Lenticular postcards can be a great way to grab attention and promote a business or product. They can be used as part of a direct mail campaign to attract new customers or clients, or as a way to follow up with existing ones.
Promotions: Lenticular postcards can be a great way to promote a special event or sale. They can be mailed out to a targeted list of recipients or handed out at trade shows or other events.
Personal correspondence: Lenticular postcards can be a fun and unique way to send a message to a friend or loved one. They can be used to send birthday wishes, thank-you notes, or other special messages.
Marketing materials: Lenticular postcards can be a great addition to a marketing campaign, helping to differentiate your business and make a lasting impression on potential customers or clients.
Souvenirs: Lenticular postcards can be a great way to commemorate a special event or trip. They can be produced with images or designs that reflect the theme or location of the event, and they can be sent or given as gifts to friends and family.
Lenticular printing is a method of producing printed pictures with the appearance of depth, or the capacity to alter or move when the image is seen from various angles, using lenticular lenses (a technique also used in 3D displays).
Flip and animation effects like blinking eyes, as well as contemporary commercial images that alter their message depending on the viewing angle, are examples of lenticular printing.
A transparent plastic lens front layer is combined with a printed backing layer in lenticular print. The print may be done on regular paper and then properly aligned and bonded to the plastic lens material, or it can be done directly on the smooth back face of the transparent plastic (typically using UV inkjet).
Lenticular effects are divided into two categories: animation and 3D. By placing visual components on various spatial planes, 3D lenticular effects give the sense of depth. Computer-generated animation, video, time-lapse photography, and motion picture film may all be used in animation lenticular effects, which play image frames like a motion picture projector. Zoom, flip, and morph are the three categories that make up the animation category.
Zoom Effect
Visual components are pushed forward or leap out towards the view when zoomed in. This effect is excellent for capturing and concentrating customers' attention on your brand or a highlighted product.
Flip Effect
The flip element toggles the visual components of an image on and off, allowing one picture to transform entirely into another. This is an excellent way to demonstrate a "cause and effect" or "before and after" concept.
Morph Effect
The morph element, rather simply turning a picture on or off like the flip effect, changes one visual element into another. The morph animation effect is an excellent method to demonstrate a backwards comparison, such as comparing an old logo or product to a new one.
Combination of Effects
While any of these components may be utilized alone, you'll often see them combined in the same project. Flip/3D, Motion/3D, and Motion/Zoom are all common combinations. Lenticular effects may be combined to produce stunning outcomes. However, in order to get a good outcome, rigorous preparation and planning must be carried out.
Need help with this?
Our expert team is always here to help with any customizations you require.
Available 10am-6pm weekdays by phone, email or livechat.
Call 212.381.2826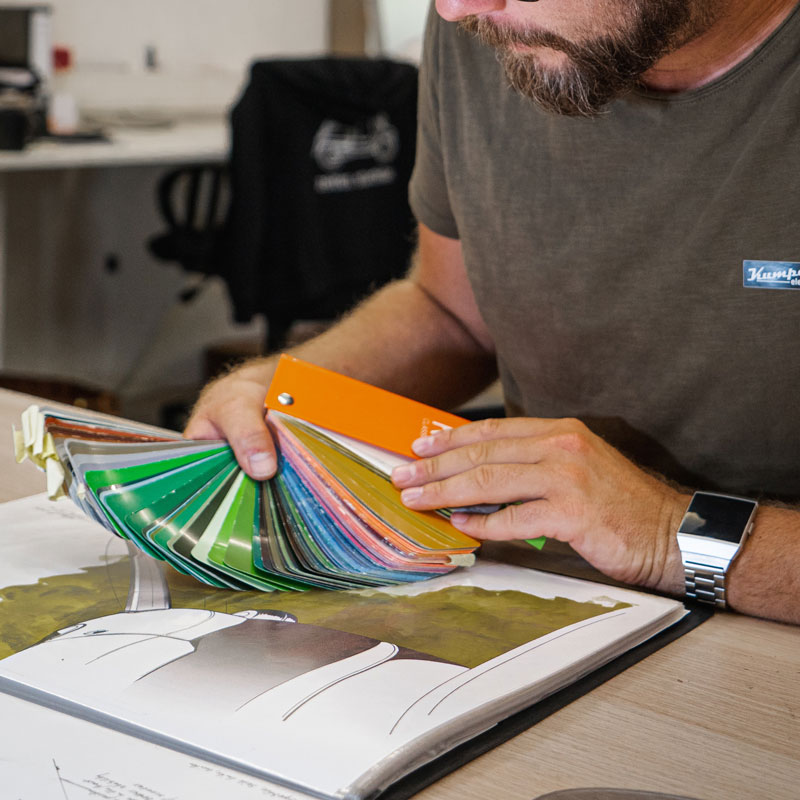 What is CMYK?
In offset printing, the standard color mode used in CMYK. CMYK, or Cyan, Magenta, Yellow & Black represent the four process colours in this mode. When you are creating your files, be sure to check the color mode as programs like Photoshop by default use RBG color, not CMYK. CMYK may look more dull on a computer screen than RGB; more noticeable in large solid color areas.
Accepted File Formats
We require industry standard formats for all uploaded files. We keep quality in mind when we print every job. We accept the following file formats: TIF – JPG – PDF – EPS – PSD. We accept CorelDraw, Pagemaker & Quark or similar files by converting them to industry standard graphic formats like JPG, TIF or PDF.
Rich Black vs 100% Black
Large black areas or fonts bigger than 36 points should use Rich Black which stops areas appearing gray. Rich Black is created with 30% Cyan, 30% Magenta, 30% Yellow, 100% Black. This setup will keep black areas looking rich and bold. For best results with regular body text, do not use Rich Black.
What Paper to Choose?
Paper should be addressed first in your design work. With postcards, the best option is to choose a thicker cardstock instead of a thinner text weight. The difference between these 2 types of paper is thickness. Our text weight is based on pounds and our card stock is weighted by points. Want to feel the difference? Order a Free Sample Kit today.
What is Font Outlining?
We might not have the same fonts on our systems as your computer, so when saving your files in a vector based program (Illustrator, InDesign, Quark, CorelDraw) please outline your fonts. This will convert them to a vector image, will not effect the clarity and will allow us to see the same text as you see on your screen.
Coating Types
We have many coating options at Printing New York. Matte, UV, silk and spot UV. Choose the coating based on your application. For example, if you want to write on your cards with a pen, do not choose UV coating as a pen won't write on it. In this case a matte or uncoated stock coating would suit. Choose UV coating for flyers or banners and our rich silk gives a touch of elegance; 16pt stock a more durable feeling.