Same Day Business Cards Printing
In a hurry? Choose same day business cards and get your order in by 12pm to pickup today between 4-6pm at either our Manhattan or Brooklyn locations. Business cards are still a timeless marketing tool and used today for more than just your contact details. Think advertising, save-the-date, or informational cards as well as your traditional name cards. Our same day business cards are beautifully printed on state-of-the-art digital printing presses in only a few hours. Pickup today or free delivery USA wide.
Are you in a hurry? For the vast majority of our products, we are pleased to offer same day printing. Choose from classic options like our 22PT Silk Business Cards or something more upscale like our 19pt duplex business cards. For smaller quantities, custom die cutting is also available for same-day printing. Order now and be prepared to walk into your upcoming meeting or event with confidence and attractive business cards.
Yes, we guarantee production for all Same Day Service products if you order before 12PM. Eastern Standard Time. This manufacturing schedule is 100% guaranteed – if we don't make your deadline, we'll refund your money and give you your business cards back.
If you ordered an Online PDF Proof, you must approve it by 12 p.m. EST in order for your order to be processed. Because our Prepress Team creates all online PDF proofs by hand, we strongly advise that you add your files to your order by 9:00 a.m. EST to enable ample time for you to receive, examine, and approve your proof.
All Same Day Service goods are made exclusively in our New York facility. If you order by 6:00 p.m. EST and fulfill our Same Day Service deadline, we will complete the item and have it ready for collection at our New York location by 6:00 p.m. EST.
Same Day Business Cards FAQs
The ignition switches that initiate the continuing interaction between your prospects and your brand are business cards. Printing New York can design typical business cards for our customers, but we also specialize in one-of-a-kind designs that incorporate size, shape, color, font, and materials to produce a card that is uniquely yours. Folded cards, bespoke die-cuts, pop-ups, double-sided, magnetic, plastic, vertical, horizontal, and more options are available. What would you like your business card to say about you? We'll assist you in creating something that accurately expresses all you do for your clients.
When you hand out business cards, you're not simply sharing your contact information; you're also giving them a taste of who you are and what you stand for. A poorly produced card might turn off clients too quickly, yet a well-designed card can propel you and your company to new heights.
With personalised business cards, you can make a lasting first impression. They not only look beautiful, but they also help you expand your client base. When there is little time to communicate, business cards are very useful for various networking opportunities such as large events and trade exhibits. They can be used on store counters, product displays, and office bulletin boards because they're so versatile. Giving a potential consumer your properly designed business card tells them that you will be available when they require your services.
Business card printing is simple, reasonable, and hassle-free at Printing New York. Our user-friendly online order calculator allows you to design unique business cards in a choice of sizes, shapes, and materials to match your personal style. Simply choose your preferred printing specifications from the dropdown menus, and the calculator will provide an instant price for you to review. If you place a larger order, you will be eligible for free shipping.
Why should I have business cards printed?
There's a reason why personalized business card printing remains popular among small businesses and professionals year after year, even in this digital age. More reasons to produce business cards include:
They are personal. It's convenient to provide your contact information via email or text, but it's impersonal. Relationships are formed by passing out business cards while speaking and maintaining eye contact.
They are transportable. There are potential leads or contacts all over the place. You will never miss an opportunity to build valuable business connections if you have a business card ready to hand out at any moment.
They are reasonably priced. They are reasonably priced, making them an excellent marketing tool for small businesses on a tight budget.
They'll stick with you. First impressions matter, especially when introducing a company or yourself. To get noticed and recognized, use business cards to develop unique designs printed on high-quality paper stocks. Your one-of-a-kind design not only makes a strong first impression, but it also serves as an excellent icebreaker.
Same Day Business Cards near me
If you're looking for same day business cards printing near your location in NYC, you've found us. With 2 convenient pickup locations in Manhattan and SOHO, Brooklyn. Come in and see what we have to offer at one of our Printing New York locations. We have a physical presence, which we believe distinguishes us from print companies that exclusively operate online. Come see one of our expert designers about your project from Brooklyn to Manhattan, or feel the luxurious quality of our card stocks and print materials in your hands. Our offices are also great places to pick up your next print order.
What kind of paper do you use to make business cards?
For business cards, we provide a choice of cardstock options from which to choose. You can choose based on the thickness, coating, and sort of finish you like. Simply select a type from the menu in the product page order calculator, and the other options available for that type will be updated immediately.
When can I expect to receive my personalized business cards?
The sort of business card you order will determine this. The majority of our items are ready to ship within one (1) business day and our same day business cards can be picked up in only a few hours. If you're in a hurry, we have a variety of printing turnaround choices. Using the order calculator, you can select your chosen printing turnaround time and even get an estimated delivery date by entering your ZIP code.
Do you have any free business card templates available?
You can download free blank print templates from the Templates tab on any product page. These templates are compatible with any major editing product, such as Adobe Photoshop and Illustrator, and they show you how to properly set up your business card design by indicating the trim, bleed, and safety zone.
Need help with this?
Our expert team is always here to help with any customizations you require.
Available 10am-6pm weekdays by phone, email or livechat.
Call 212.381.2826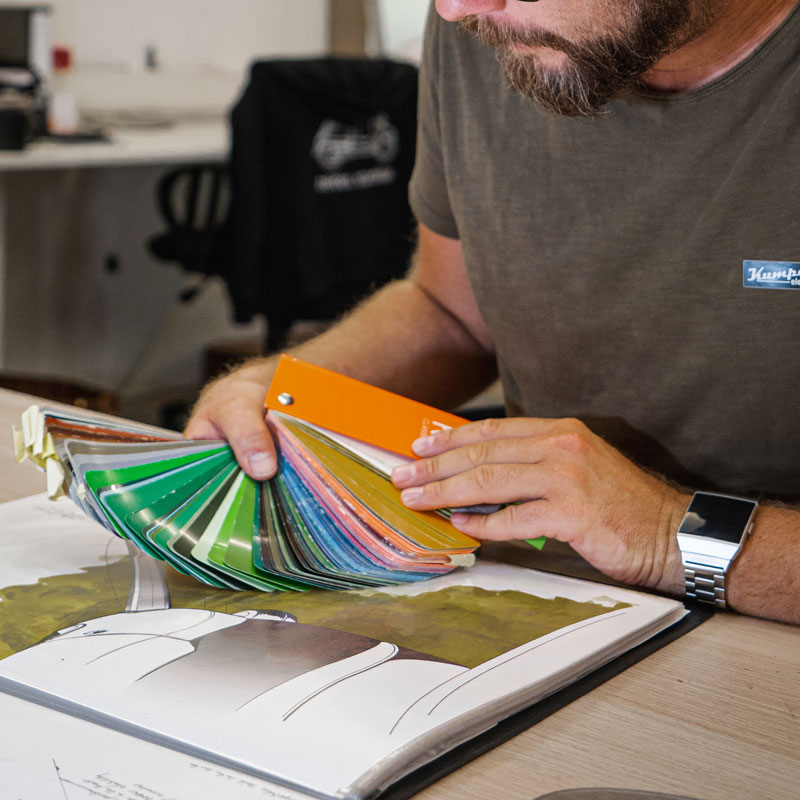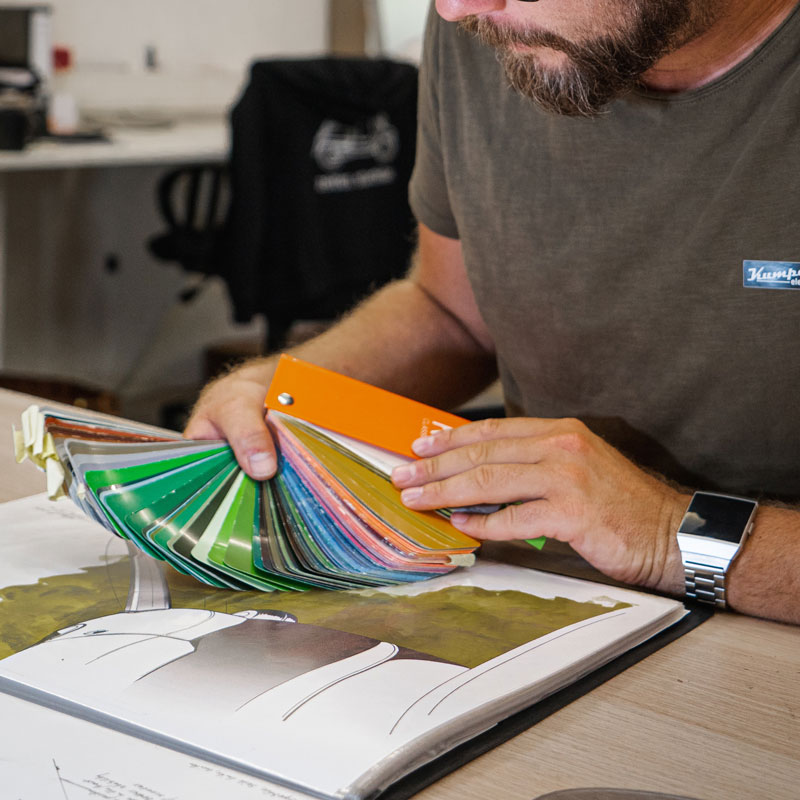 What is CMYK?
In offset printing, the standard color mode used in CMYK. CMYK, or Cyan, Magenta, Yellow & Black represent the four process colours in this mode. When you are creating your files, be sure to check the color mode as programs like Photoshop by default use RBG color, not CMYK. CMYK may look more dull on a computer screen than RGB; more noticeable in large solid color areas.
Accepted File Formats
We require industry standard formats for all uploaded files. We keep quality in mind when we print every job. We accept the following file formats: TIF – JPG – PDF – EPS – PSD. We accept CorelDraw, Pagemaker & Quark or similar files by converting them to industry standard graphic formats like JPG, TIF or PDF.
Rich Black vs 100% Black
Large black areas or fonts bigger than 36 points should use Rich Black which stops areas appearing gray. Rich Black is created with 30% Cyan, 30% Magenta, 30% Yellow, 100% Black. This setup will keep black areas looking rich and bold. For best results with regular body text, do not use Rich Black.
What Paper to Choose?
Paper should be addressed first in your design work. With postcards, the best option is to choose a thicker cardstock instead of a thinner text weight. The difference between these 2 types of paper is thickness. Our text weight is based on pounds and our card stock is weighted by points. Want to feel the difference? Order a Free Sample Kit today.
What is Font Outlining?
We might not have the same fonts on our systems as your computer, so when saving your files in a vector based program (Illustrator, InDesign, Quark, CorelDraw) please outline your fonts. This will convert them to a vector image, will not effect the clarity and will allow us to see the same text as you see on your screen.
Coating Types
We have many coating options at Printing New York. Matte, UV, silk and spot UV. Choose the coating based on your application. For example, if you want to write on your cards with a pen, do not choose UV coating as a pen won't write on it. In this case a matte or uncoated stock coating would suit. Choose UV coating for flyers or banners and our rich silk gives a touch of elegance; 16pt stock a more durable feeling.
Discover beautiful business cards printed in NYC
With over 20 years experience in print, you can be sure you'll arrive with the perfect business card.