Custom Gift Wrapping Paper
Tastefully wrap your presents in your own branding and logos! Create your own custom wrapping paper from our recycled Kraft paper available in 25″x150′ rolls. It's the perfect way to present gifts and remind your customers about your brand. Choose from a variety of thicknesses and shades, with no setup fees required.
It's the perfect time of year to impress your customers with gifts wrapped in your own branded custom wrapping paper. Choose from our variety of thickness, with thinner paper making it easier to bend and wrap, and thicker paper for more protection on heavier and fragile gifts. We've got the perfect shade of wrapping paper for your needs, custom printed with your own designed patterns or logo, up to 350′ long rolls and we can even print these same day in NYC!
Personalized wrapping paper is a great way to express your individuality and taste. Wrapping your gift in custom-branded wrapping paper transforms your packaging into an instant brand link with your clients and prospects. The phrase "it's the thought that counts" is truly meant by those who say it. It doesn't matter what the gift is; when you wrap it in personalized gift wrapping, it becomes even more memorable. Create custom customized wrapping paper to package things from your online shop, office gifts, client gifts, or promotional prizes to promote your business. Create personalized photo gift wrap to give to your closest family and friends as a way to express your gratitude.
Anniversary Wrapping Paper
With our exquisite Wrapping Paper, you may share a special occasion with your significant other by giving them the right present. Made from high-quality 80# paper material, your gift will be well-protected and will look stunning when delivered. You can pick from a wide variety of our current anniversary wrapping paper stock that will leave your loved someone completely speechless.
Holiday Wrapping Paper
What do you think is the nicest part about the holidays? Presents were mentioned by the child in you, while family and friends were mentioned by the adult in you. What's wrong with putting them together? When it comes to bespoke holiday wrapping paper, Overnight Prints offers the best of both worlds because it is printed on premium paper stock. Create a unique piece of wrapping paper for each and every individual on your holiday gift list. You can order as few as one or as many as 200 pieces.
Custom Wrapping Paper NYC
Wrapping a unique gift with personalized wrapping paper from Printing New York will make it much more memorable for your gift recipients. Our heavy-weight gift wrap measures 25 inches wide and with rolls starting at a large 25′ you are sure to have enough paper to wrap even the largest collection of gifts. You can personalize the paper to suit each event for which you are giving a gift, from birthdays to Christmas to anniversaries. When you want to take your gift to the next level of personalization, our custom wrapping paper is the perfect solution for you. It demonstrates that you have given careful consideration and devotion to crafting the perfect gift for that special person in your life by using high-quality wrapping paper
Your wrapping paper design is printed on only one side, utilizing wide-format, fine-art inkjet printers with water-based inks to create a one-sided piece of wrapping paper. This implies that all of your patterns or artwork will retain their exquisite detail, and your customers will receive high-quality outcomes.
Custom Wrapping Paper FAQs
Custom Wrapping Paper Manufacturer
We're a custom wrapping paper manufacturer in NYC with years of experience printing all types of custom wrapping paper for a variety of businesses and individuals. Our custom paper rolls start at 150′ and go up to 350′ making it ideal for businesses who want a large amount of paper to wrap gifts at their location.
Wholesale Custom Wrapping Paper
Our prices are so low, you're feel like you're shopping at a wholesale custom wrapping paper store. We won't be beated on price in NYC. Talk to our team today about your personalized wrapping paper needs.
Is it necessary to put a protective coating on gift wrapping paper before using it?
It is not necessary to coat wrapping paper with a protective coating because it is, by its very nature, a product intended for short-term use. It is also too thin for most traditional coating methods such as UV and lamination because the wrapping paper is made of thin stock.
If yes, are all of your wrapping papers recyclable.
They are recyclable due to the fact that they are made of paper, however they were not made with recycled paper. Up to 30% of the product is made from recycled materials. If you require paper that is made entirely of recyclable materials, we can provide you with that as well.
What kind of packaging and shipping methods are used for the wrapping paper?
In order to transport your package in the most efficient manner, it is either wrapped or laid flat in the box.
Is it possible for you to print on both sides of my wrapping paper?
No, there is just one-sided printing available at this time.
Will the ink rub off on my hands, as it does when I read a newspaper, like when I write?
Not nearly as much as you might expect, but there is some influence—though we are good at reducing this influence during the design phase. In web printing, ink dries by absorption rather than being heat sealed or coated with laminates, which contributes significantly to our product being as environmentally friendly as possible. Having said that, today's soy-based inks soak considerably more fully than the old petroleum-based inks, which developed a reputation for rubbing off of people's fingertips when they were first introduced. Wrappily's uncoated paper has a certain freshness to it, and our crisp, reversible images make for a wonderful present that is not harmful to the environment.
Need help with this?
Our expert team is always here to help with any customizations you require.
Available 10am-6pm weekdays by phone, email or livechat.
Call 212.381.2826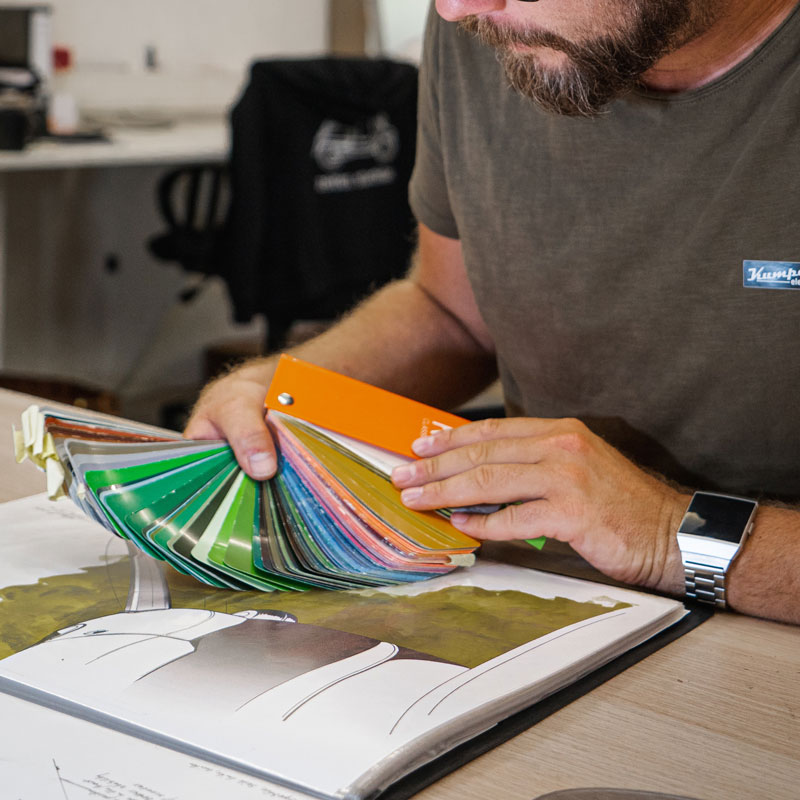 What is CMYK?
In offset printing, the standard color mode used in CMYK. CMYK, or Cyan, Magenta, Yellow & Black represent the four process colours in this mode. When you are creating your files, be sure to check the color mode as programs like Photoshop by default use RBG color, not CMYK. CMYK may look more dull on a computer screen than RGB; more noticeable in large solid color areas.
Accepted File Formats
We require industry standard formats for all uploaded files. We keep quality in mind when we print every job. We accept the following file formats: TIF – JPG – PDF – EPS – PSD. We accept CorelDraw, Pagemaker & Quark or similar files by converting them to industry standard graphic formats like JPG, TIF or PDF.
Rich Black vs 100% Black
Large black areas or fonts bigger than 36 points should use Rich Black which stops areas appearing gray. Rich Black is created with 30% Cyan, 30% Magenta, 30% Yellow, 100% Black. This setup will keep black areas looking rich and bold. For best results with regular body text, do not use Rich Black.
What Paper to Choose?
Paper should be addressed first in your design work. With postcards, the best option is to choose a thicker cardstock instead of a thinner text weight. The difference between these 2 types of paper is thickness. Our text weight is based on pounds and our card stock is weighted by points. Want to feel the difference? Order a Free Sample Kit today.
What is Font Outlining?
We might not have the same fonts on our systems as your computer, so when saving your files in a vector based program (Illustrator, InDesign, Quark, CorelDraw) please outline your fonts. This will convert them to a vector image, will not effect the clarity and will allow us to see the same text as you see on your screen.
Coating Types
We have many coating options at Printing New York. Matte, UV, silk and spot UV. Choose the coating based on your application. For example, if you want to write on your cards with a pen, do not choose UV coating as a pen won't write on it. In this case a matte or uncoated stock coating would suit. Choose UV coating for flyers or banners and our rich silk gives a touch of elegance; 16pt stock a more durable feeling.